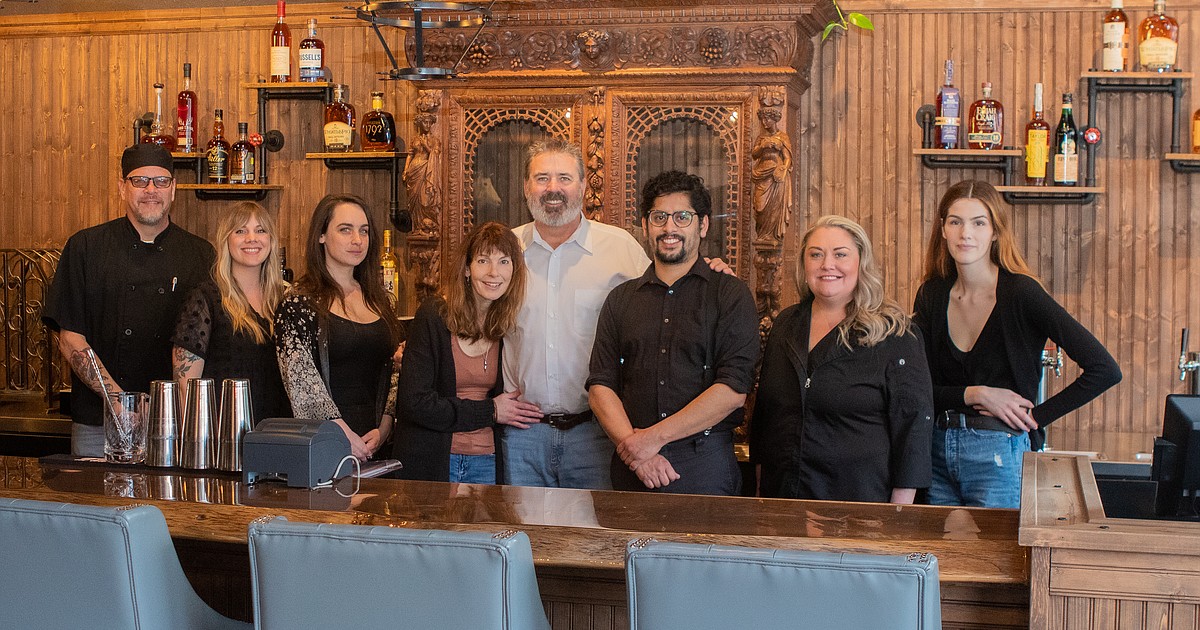 A nice addition | Coeur d'Alene Press
Craft cocktails, tasty tapas and fine wine are on offer at the Goat Lounge which opens at 3 p.m. on Tuesdays behind the Moose Lounge at 108 N. Fourth St.
Owners Dave and Janet Pulis created the upscale lounge to complement the laid-back vibe of the attached Moose. The bar was handcrafted from a large tree on the White House property when it was moved to become the new museum, and the wine cabinet at the back of the bar was handcrafted in 19th century with hand carvings with a grape pattern.
With seating for 24 at the bar, tables and leather sofas, hours are 3 p.m. to midnight Tuesday through Sunday with more, and outdoor seating, in the summer. Foods include flatbread dishes, salads and tapas. Visit www.instagram.com/thegoatlounge.
Numerica centralizes the sales team
Business Banking, Home Lending and Financial Services will be the tasks of the Commercial Loans team to have a new centralized location for Numerica Credit Union in Suite 110 of the Parkwood Business Properties building at 1250 Ironwood Drive.
"Numerica's new office space will take a different approach to our in-person branches," said Dan Pease, Vice President of Idaho Commercial Banking. "This private space is for members of our team in corporate banking, home lending and financial services. The team will be working over the phone and digitally."
Formerly known as Spokane Railway Credit Union, Numerica began in 1937 and has 165,000 members, $3.3 billion in assets and 21 regional branches including three in Coeur d'Alene, Post Falls and Hayden.
Opening of Berkshire Hathaway in Riverstone
Offering a professional, efficient and satisfying buying and selling experience, Berkshire Hathaway HomeServices by Jacklin Real Estate opens April 11 at 1927 W. Riverstone Drive.
The unique office environment includes an open coworking space, private offices, lounges, an outdoor workspace and a busy coffee bar in the building that once housed the Ugly Fish restaurant.
With owners Wade and Nicole Jacklin, hours are 8:30 a.m. to 6 p.m. weekdays and 8:30 a.m. to 4 p.m. Saturdays and Sundays. Phone 208-758-7474. Check www.BhhsJacklin.com.
Now the Tidbits
Former owners of Sargent's in Hayden, Terry Eastman and Jerry Thompson, will honor their gift vouchers sold by December 31 at O'Malley's Sports Pub in Rathdrum.
Watch for commercial construction west of Hwy 41 between 16th and Horsehaven in Post Falls.
Companies that will occupy the new Lucille building at 2605 N. Fourth St. are Northwest Construction Management, Refined Salon and Stylus Wine & Vinyl Bar.
There's something going on with the old Owl Cafe in Hayden.
Post Falls RV Campground is under construction at 70 W. Cabelas Way between Cabela's Store and State Line Walmart at The Pointe at Post Falls.
Many of the 16 commercial lots are available in the future Prairie Crossing Shopping Center at the northeast corner of Highway 41 and Prairie Avenue.
A burger restaurant and a cosmetics salon will be set up in the new building on the 4th floor and by the lake.
A new building for Etco Services is under construction off Huetter north of Seltice and I-90
The PACR office building is under construction at 1857 W. Hayden Ave.
Breaking Bread Bistro will be where Davis Donuts was at fourth and best.
Watch out for a place called Pearl & Tin.
A sign on Wayne Drive in Hayden reads "Future home of Blue Chip Chiropractic".
The Open Arms Real Choice Clinic will move from 1800 Lincoln Way to 8056 N. Wayne in Hayden.
A new Pizza Hut will be in Hayden.
The Mill will be a four-storey mixed-use building at Government Way and Mill Avenue with retail on the ground floor and 43 apartments above.
Consign Furniture has a "coming soon" sign southwest of the US 95-Lancaster Road intersection.
An express outdoor car wash is being built in the 3400 block of Seltice in Post Falls.
Major changes are coming to the Greenbriar Inn & 315 Kitchen under new ownership at 315 Wallace Ave.
The Rebel Junk Shoppe at 2424 N. Fourth St. will be expanded to a streetside location.
Cornerstone, a four-story commercial and residential building, is under construction in Riverstone.
Bruchi's quick service restaurant is planned for a new building north of the corner of Highway 41 and Mullan Avenue.
Watch for the construction of the Vantage Point Brewery across from Michael D's Eatery on Coeur d'Alene Lake Drive.
A Sweet Lou's restaurant and a Grease Monkey parking spot will be at the Crossings in Athol.
Timberline Trading has moved to Silver Lake Mall, and a water sports-themed business will open at the old location.
TownePlace Suites by Marriott Hotel is being built where the Outback Steakhouse used to be, at the southeast corner of I-90 and Northwest Boulevard.
Several steel storage buildings will be constructed at 3758 W. Hanley Ave., off Atlas Road, for Hern Ironworks.
A Capriotti's Sandwich Shop will move into the old Chipotle Mexican Grill building at 305 W. Appleway.
A Sarah Hamilton FACE seat will be at 2120 Northwest Blvd.
A new commercial and residential building, Midtown Center, is under construction at 821 N. Fourth St.
Watch for major changes with the Burger Bunker and Bunker Bar on Spokane Street in Post Falls.
Pearl & Tin will be in Suite 101 at 2605 N. Fourth St.
The Stylus Wine & Vinyl Bar will be at 2605 N. Fourth St.
A large storage complex and new headquarters for Steel Structures of America is being built near Highway 41.
The Den will be a new tavern at 761 N. Idaho St. in Post Falls.
My Nails & Spa will be on Canfield Ave.
The CD'A Corner Store adds a kitchen and tables downtown.
Coeur d'Alene Nissan will have a major addition to its building off US 95.
Ivonne Welch Insurance Agency is new in Suite 203 at 2065 W. Riverstone Drive.
The Post Falls Pavilion food court will be near the intersection of Highway 41 and Horsehaven.
All 50 states are listed at the top of the Lincoln Memorial on the back of the $5 bill.
Contact Nils Rosdahl at [email protected]