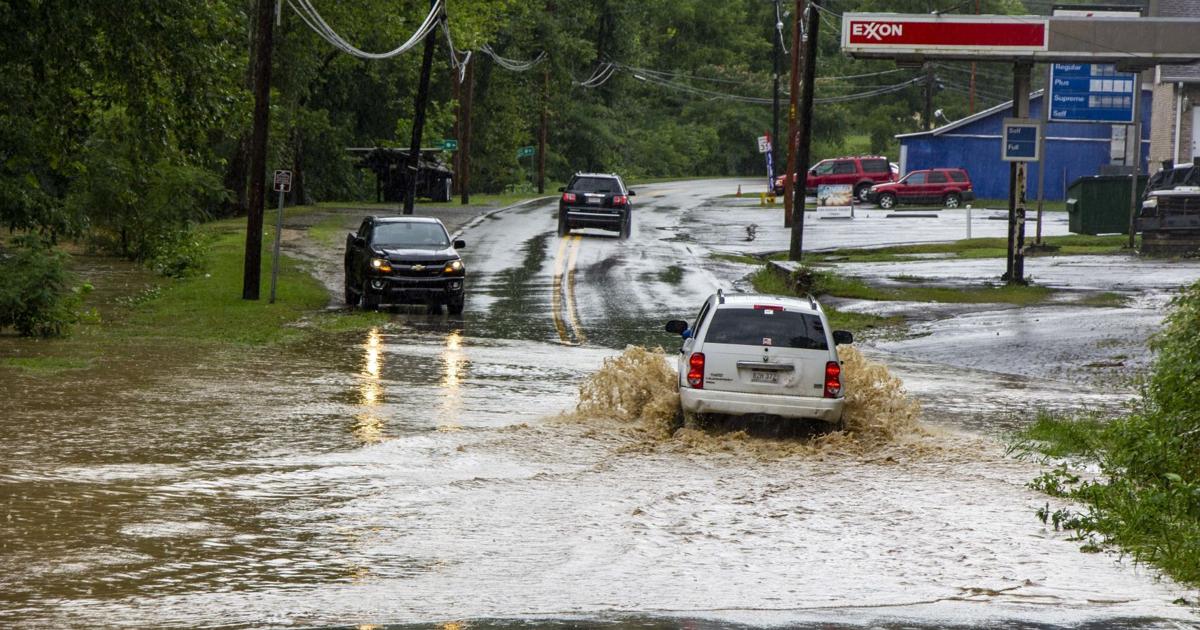 Bill to combat driving through high water floods West Virginia lawmakers with questions | News
CHARLESTON — Making it a crime to get stuck in floodwaters while crossing a flooded road may seem simple, but lawmakers are concerned about the implications it could have on residents of rural West Virginia, good samaritans and others.
House Bill 4281 seeks to make it a crime to operate a vehicle on a public road or highway that is clearly marked as closed due to flooding. A first conviction would result in a $1,000 fine, a second a $1,500 fine and a third a $2,000 fine.
If found guilty, the offender would also be required to reimburse rescuers for costs incurred in the rescue efforts – excluding the cost of transporting the rescued person to a hospital or injury treatment facility – until at $2,000. If more than one rescue agency is involved in the rescue, the reimbursement would be split proportionately.
It is sponsored by Jonathan Pinson, R-Mason; Bryan Ward, R-Hardy; David Kelly, R-Tyler; Riley Keaton, R-Roane; Tom Fast, R-Fayette; Dean Jefferies, R-Kanawha and Mike Honaker, R-Greenbrier.
Pinson said it's a problem in his area and is often seen on the news. Several states across the country and surrounding West Virginia have similar laws in place, some of which provide for criminal penalties even for driving around a barricade on a closed road.
He said the bill would help prevent residents from making decisions that create a big risk for first responders.
"If we deter someone from doing this knowing that they might not only get in trouble, but be responsible for the expenses they are going to incur for their local volunteer firefighters, one would assume that there may be less of these dangerous water rescues will take place," he said.
Although the proposed bill sounds good in theory, at a House Judiciary Committee meeting on Thursday, several delegates questioned the implications it might have.
The bill does not cover a person trying to escape an emergency on their own because flash flooding is common in the state, Assemblyman Shawn Fluharty said. There is also no exception if the road in question is the only route available for an individual to flee the area.
Of the. Chris Pritt asked if there is anything in the law that protects a good Samaritan. Using a guess, he asked if someone with a big truck had come across a sedan stuck in floodwaters in a remote area with no cell phone service to call emergency services.
"There is no way to reach a first responder. They think that person is in danger," he said. "And with a law like this on the books, it might deter them from coming in and trying to help the person just by the existence of this law."
Of the. Adam Burkhammer asked if insurance companies would pay the $2,000 reimbursement rate, at which the lawyer said insurance generally does not cover felony. Burkhammer said it's a slippery slope for insurance companies not to pay out their customers' actions every time they're cited for a car accident they're at fault for.
The bill states that the road should be clearly marked as closed due to flood waters, but when questioning Del. Pat McGeehan, it became unclear whether a simple "road closed" or a permanent sign indicating the road was subject to flooding would be satisfactory. .
Of the. Steve Westfall wondered what would count as a "vehicle" in the law, fearing someone riding an ATV could also be included. Of the. Mike Pushkin said the bill does not penalize those who succeed in crossing a flooded roadway.
The bill has been referred to a subcommittee – made up of Pinnson, Westfall and Fluharty – to deal with the issues discussed and will be taken up again at a later date.
Courtney Hessler is a reporter for The Herald-Dispatch, primarily covering Marshall University. Follow her on Facebook.com/CHesslerHD and through Twitter @HesslerHD.