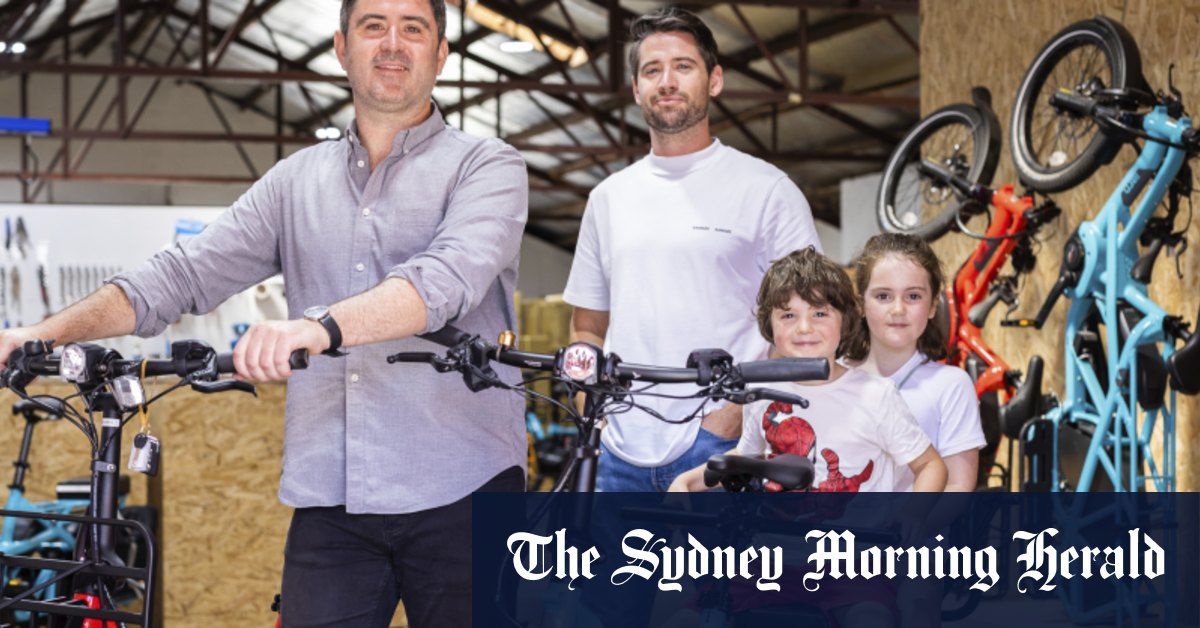 Ebike startup gives kids a ride in the back
By the end of 2019, the two had quit their day jobs to focus on the startup. Suddenly Ben found himself with just three weeks to return to Australia after living in Germany for a decade. The brothers secured a co-working space, created a website, and launched a pilot in late November.
The first 100 bikes, made in Vietnam, arrived in early February 2020 – just before the coronavirus pandemic hit.
"We sold out those 100 in six to eight weeks – at the very start of a global pandemic," Dan says. "It was an interesting start. We walked through the doors very, very quickly.
After testing and testing the first 100 bikes, it became clear to the brothers who their main customer base was: families and mothers, in particular.
More than 70% of their clients are women. "Which is completely unheard of in the mobility industry," says Ben. Over 80% of the Lug & Carrie fleet is designed to transport children and can carry loads of up to 180 kg.
"Cycling to work normally means you have a backpack. But if you have two young children and you have to do the shopping and all the other things that go into a busy family life, there's a barrier there," says Dan.
"You can't just get up and cycle to work, because you need to have another transportation solution. This is where the product innovation of a bike that can do more – that can carry two children and can do so safely – opens up the bicycle as a mode of transportation to people who were previously excluded.
Pricing is deliberately low: e-bikes, which cost $6,000, are available to rent from $44 per week. The price increases from there depending on additional accessories.
The weekly subscription includes maintenance, spare parts, insurance, delivery and collection, as well as emergency measures – if something goes wrong with the bike in the middle of the journey, such as a flat tire , Lug & Carrie will order a taxi to pick up customers.
Loading
Like countless other businesses, the COVID crisis has put a damper on the company's growth plans, although Ben and Dan have seen firsthand the old-fashioned power of word-of-mouth.
"If you were in Melbourne and you were in a primary school at 9am, you would see a whole bunch of our bikes," says Ben. "What is important in the adoption [cycling] is normalizing it.
"If you get a bike or two used by parents in a daycare or elementary school, other people see it and ask what it is and adopt it. We are building a very nice community.
The two-person team has grown to around 13. Lug & Carrie now has around 500 active customers in Melbourne and Sydney (although a number of customers have ended up buying the bikes) and a target to grow to 1500 active customers by the end of 2022 and 10,000 by 2025. The co-founders envision expansion into other cities, with Canberra, Brisbane and Adelaide in sight. And as Omicron loosens up and people start returning to the office, the brothers are hoping for a new commuter clientele.
The pair also work closely with local town councils to encourage bike adoption. All the physical infrastructure is in place – it's just about getting Australians onto the cycle paths.
"We are truly on a journey of behavior change, both with our individual customers and with the community as a whole."
The Business Briefing newsletter features top stories, exclusive coverage and expert opinion. Sign up to get it every weekday morning.