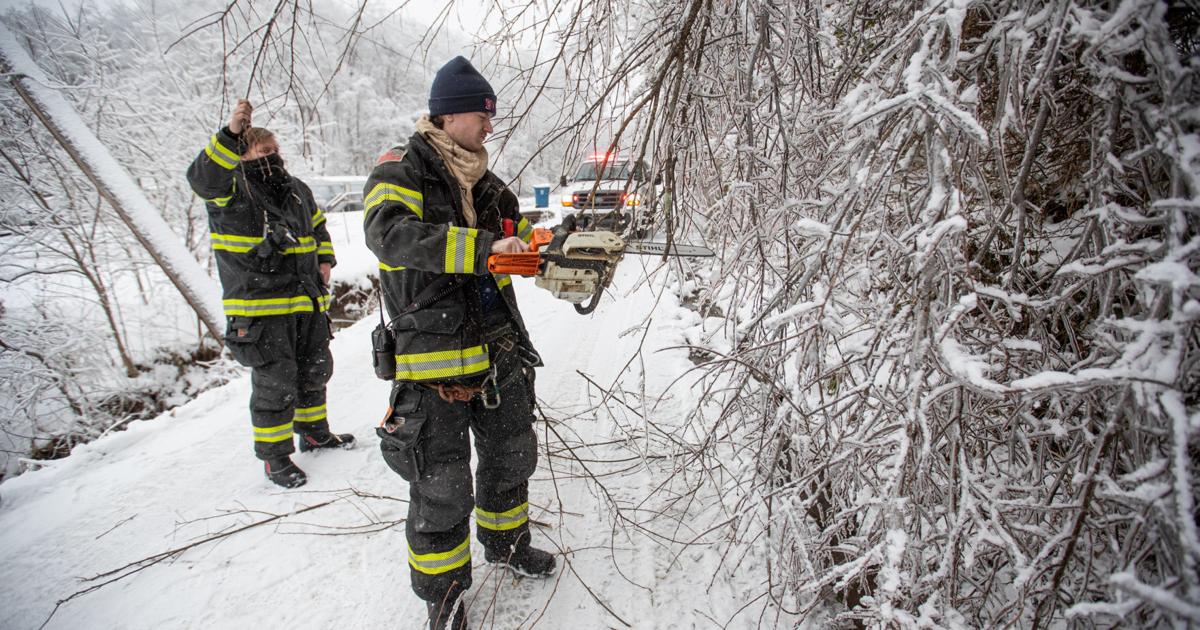 Lawmakers Seek Ways to Increase Funding and Recruitment for VFDs | News
CHARLESTON — As the West Virginia Volunteer Fire Department grapples with recruiting and funding issues, state lawmakers have introduced several bills to help make volunteer firefighting work more attractive.
West Virginia currently has 427 volunteer fire departments statewide, including 12 partially volunteer positions, many of which are at risk of closing due to budget concerns.
The bills were introduced last week at the start of the legislative session on the heels of an interim meeting of the Joint Committee on Volunteer Fire and Emergency Medical Services, at which Senate lawmakers of West Virginia and the House of Delegates discussed underfunding issues. and staffing of VFDs throughout the state.
Lawmakers hope the bills will make it easier for more residents to respond to the call of firefighters.
Sen. Mike Woelfel, D-Cabell, said volunteer firefighters make service to their communities a priority and the Legislature should put them first.
"I find out about the needs of Wayne's volunteer firefighters. It's just overwhelming," he said. "It's hard to attract quality people, and then if the equipment isn't available or it's outdated, it's just one more strike," he says. "For me, that should be a priority, and I expect it to be in the Senate."
Delegate Chad Lovejoy, D-Cabell, said the state is at a breaking point with firefighters and emergency medical services.
"If we don't take action quickly enough to address the concerns – funding probably #1, then recruitment and retention #2 – to help departmental staff, we're going to have a crisis, even more so than we don't. let's do it now," he said.
At the joint committee meeting, Sen. Ron D. Stollings, D-Boone, said the committee has been looking for some years for ways to help departments focus less on fundraising and more on service to the community by responding to fires and other emergencies.
Lovejoy said a new truck can cost between $500,000 and $1.5 million and outfitting a firefighter can cost several thousand dollars.
"I mean, that's a lot of starts for a firefighter's gear," he said, adding, "There will be a time when there will be calls and we won't have anyone to go. It's going to happen, and he's going to take action right now to fix it or we're going to have some really bad things."
Lawmakers discussed the updated Fire Protection Fund Bill, which supplements operational funding for fire departments and was introduced to the committee last December.
The Fire Protection Fund has two main sources of funding: a supplement from fire insurance policies and a levy on fireworks sales. An additional 1% levied on fire and casualty insurance policies is collected by the insurance commissioner and forwarded to the state treasurer's office for distribution, 25% of which goes to volunteer fire departments.
Funds are distributed quarterly, with all-volunteer fire departments receiving approximately $50,400 over the past four quarters combined.
Carl Fletcher, counsel for the Senate Committee on Governmental Organization, said there is currently a conflict in the code regarding how the fund should be distributed and that it has changed with each administration, but the current administration wants it resolved, which the new bill would do.
Currently, only a portion of the fund is evenly distributed. The share of fire insurance, the largest source of funding, is reduced by the percentage of paid firefighters in the service, and fireworks costs are split equally among all volunteer services.
The current administration wants to distribute all funds fairly and evenly. All-volunteer departments will see a slight increase in funding as a result, Fletcher said.
But some lawmakers want to make changes to the Fire Protection Fund more intense.
House Bill 2608 – sponsored by delegates Phil Mallow, R-Marion, Don Forsht, R-Berkeley, George Miller, R-Morgan and Josh Holstein, R-Boone – and Senate Bill 89 have were presented to the Senate on Wednesday, January 1. 12, to increase surcharges on fire and accident insurance policies to fund volunteer fire departments from 0.55% to 1%.
HB 2608 also cleaned up the language to distribute surcharges evenly across departments.
On the Senate side, Senate Bill 89, sponsored by Sen. Michael Romano, D-Harrison, as well as the Senses. Woelfel, Richard D. Lindsay II, D-Kanawha, Mike Caputo, D-Marion and Stollings would do the same. change to 1%.
Passing the bill would mean $10 million would be added to the fund, which would mean each partially paid and volunteer fire department would receive up to a $23,000 increase in what they receive from the State.
Stollings said the current rate of 0.55% is a tiny amount for those dealing with 90% of the fires in West Virginia.
"If we didn't have these volunteers (firefighters), our fire insurance rates would skyrocket," he said. "If we change that by a small number, I think that would translate into quite a bit of funding for the fire services."
Stollings said collecting 1% and dividing it equally was the right thing to do politically and would be what he was fighting for on the pitch.
During the meeting, it was said that the amount used to be 1% in the past, but was reduced to 0.55% when 0.45% of funding dropped almost ten years ago.
Delegate Joe Statler, R-Monongalia, said he feared overloading the bill with the 1% pass would make it less likely to pass, although he agreed the fire system had need more money or that the Legislative Assembly should answer more important questions. road. He wanted to approve the bill in committee without the increase and make changes once it was on the floor.
"I think if we put the two together they can both fail and they can both succeed, but I know in the past we've met a lot of resistance because the insurance federation says it will highest in the country," he said.
Woelfel said one of the first orders of government is public safety, adding that insurance companies are making record profits and lawmakers should not be swayed by their contribution.
Other bills have also been introduced to help make volunteer work as a firefighter more attractive to community members.
Senate Bill 144, also sponsored by Woelfel, creates a personal income tax credit of $5,000 for volunteer firefighters or $10,000 for joint filers who are both volunteer firefighters. House Bill 2209 would exempt firefighters who are full-time employees of a local fire department and volunteer firefighters who have successfully completed training requirements from paying income and property taxes and personal.
Finally, House Bill 4073 — sponsored by Lovejoy, Evan Worrell, R-Cabell and John Mandt, R-Cabell — would allow lifetime hunting and fishing licenses for volunteer firefighters with five years of service. Lovejoy said it was a drop in the bucket overall.
"I want to help firefighters have a little package," he said, adding, "It's a little token of appreciation that could motivate someone, and we need to think about that on different levels."
Courtney Hessler is a reporter for The Herald-Dispatch, covering state government, health care and Marshall University. Follow her on Facebook.com/CHesslerHD and via Twitter @HesslerHD.