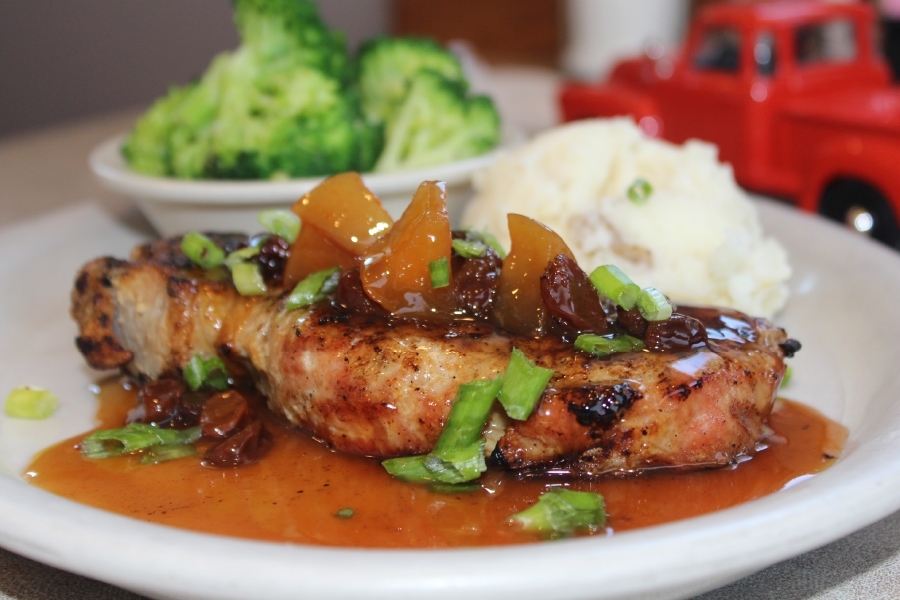 Plano diner Red Truck Cafe offers affordable options for breakfast, lunch, and dinner
Hawaiian BBQ Pork Chop ($ 10.99) is marinated and served with two sides. (Erick Pirayesh / Community Impact Journal)
James Wells, owner of Red Truck Cafe in Plano, said relationships are what he values ​​most in the restaurant industry.
Connections between customers, servers, owners and employees are all part of what makes the industry special, he said.
Wells accepted a waiter position after college, but said he never planned to stay in the industry or own his own restaurant nearly 50 years later.
"I was looking for another job while working in restaurants," he said. "And a friend said to me, 'Why don't you just accept that you're in the restaurant business? So that's what I did.
Growing up in Rowlett when it was still a small town, Wells said he learned to appreciate the relationship between local farmers and the markets they supplied.
He chose the name Red Truck Cafe before opening his restaurant in 2019 as a tribute to this farm-to-market process.
"The link between the farmer and the market is the pickup truck," Wells said. "I started looking for pictures of trucks and came across a red truck. •• After the opening, Wells began asking customers to bring photos of themselves next to a red truck.
Now a wall filled with these photos is the first thing customers see when entering the cafe. Wells' wife Cindy painted the red truck mural on the wall behind the photos. She works as an interior designer and helped Wells redesign the space near Parker Road between Alma Drive and US 75.
The Red Truck Cafe offers breakfast, lunch and dinner with a variety of daily specials. Wells said he strives to use fresh ingredients and offer a menu of different, affordable options. The traditional two-egg breakfast with hash browns and bacon or the chicken fried steak and eggs topped with gravy are popular breakfast dishes, Wells said.
For dinner, the special Saturday night prime rib or Hawaiian barbecue pork chop are also guest favorites, Wells said. He hopes to get a beer and wine license soon to offer more drinks to diners, he said.
"We just want to provide the best service with quality food," he said. "This is our goal.
Red Truck Coffee
910 W. Parker Road, Plano
972-996-5177
Hours: 7 am-8pm every day