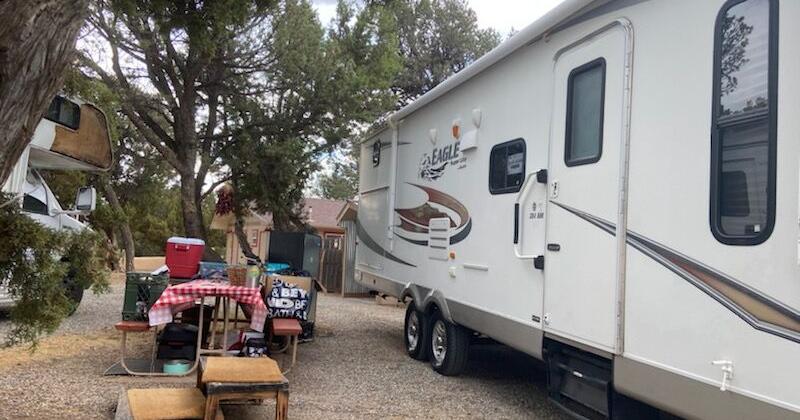 Woman says campervan she lives in was stolen from tire store in Santa Fe | Local news
Lorraine Knorr says she is entering the New Year with no home and few belongings after her parked trailer was stolen in Santa Fe in December.
Knorr, 49, said that while she waited to resume her job as a camp host in New Mexico in February, she visited friends in Florida. While she was away, she said, an acquaintance took her 2012 Jayco Eagle Super Lite to a business for a tire change, with the intention of someone else picking it up.
This person did not arrive on time and Knorr said he learned in early December that the trailer she was living in had been stolen. Santa Fe Police reported little progress in the case.
The trailer contained practical items such as warm winter coats and heirlooms such as his grandmother's wedding ring, Knorr said.
"The ashes of my deceased father are in there," she said. "All my photos, from my marriage to the birth of my children. It's like a fire, like I literally lost my whole life.
Knorr doesn't have a truck or car to tow her trailer and said she mostly relied on a friend's vehicle to move her from place to place. His insurance will cover up to $ 20,000 for the trailer and $ 5,000 for the personal items inside, but Knorr estimated more than $ 50,000 of personal items were stolen.
Quinn Tire owner Dan Kemano said The New Mexican that after his employees finished putting tires on the vehicle on December 3, they couldn't keep it inside the store overnight and no one came to pick him up, so he stayed in the parking.
Kemano said that since catalytic converter thefts were on the increase in the store, he usually had someone to watch the parking lot at night. The man who was watching that night did not hear any unusual noise, Kemano said.
"This is the first time in seven years that I've been here that something like this has happened," he said. "It was a little weird."
Knorr said she moved to New Mexico in June from Nipawin, Saskatchewan, a town of about 4,000 people more than 300 miles north of the US border. She was born in the United States but spent much of her childhood in Canada, she said. His passport was in the trailer, along with the vehicle title.
She hopes the police will find her camper van with everything intact.
"My second best would be if someone brought my personal items anywhere," she said in tears. "I don't know, just bring them back. "
If found u Documents provided by Lorraine Knorr, owner of the trailer, show that the license plate on the trailer reads 58588RVC. Anyone with information on the whereabouts of the trailer is urged to contact Santa Fe Police at 505-428-3710.